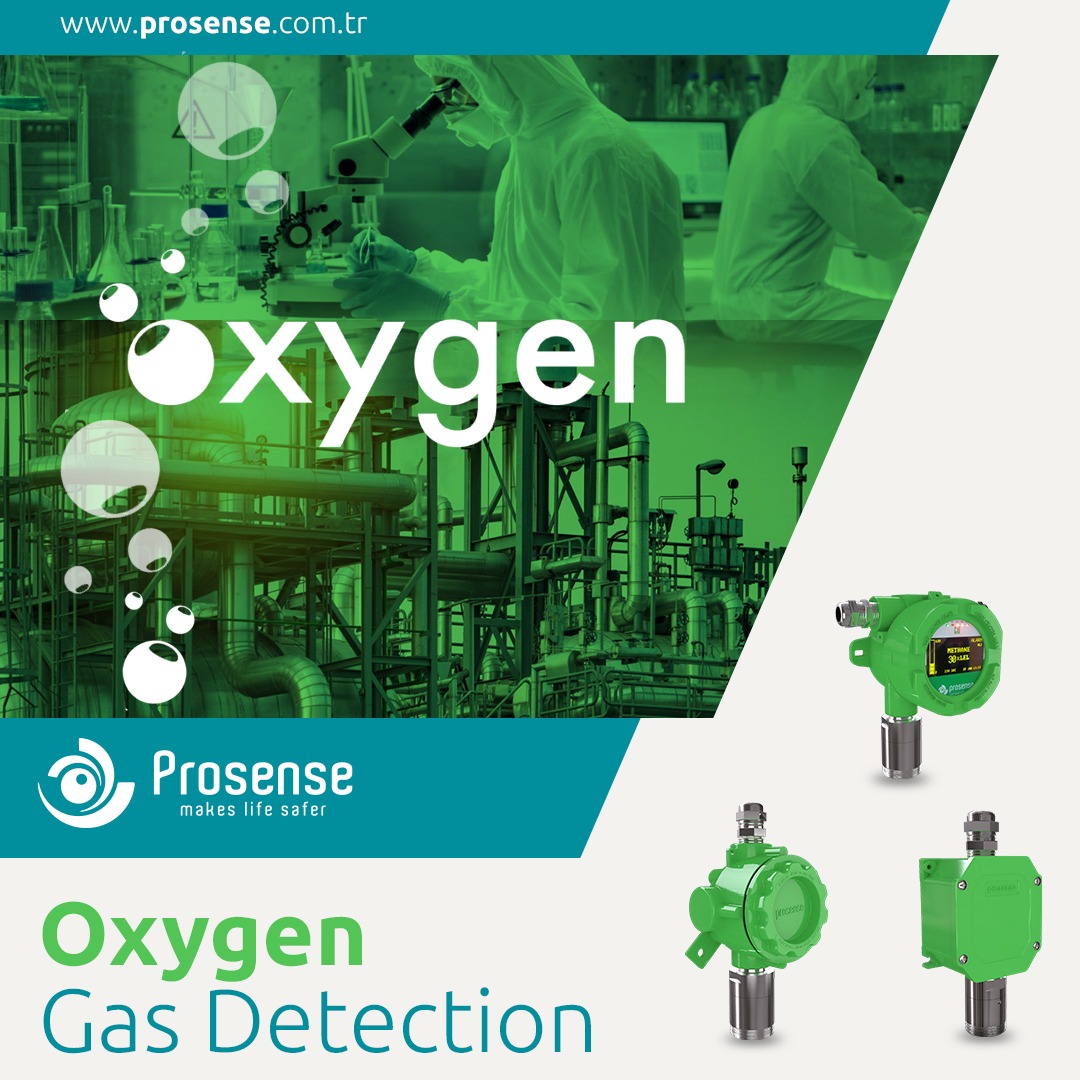 Prosense Oxygen Gas Detectors
Oxygen is essential for life, lower or higher oxygen (O2) concentration than normal level of atmosphere has dangerous effects on health. Normal atmoshere includes 20.9% / vol oxygene. The air is depleted in oxygen when this rate drops below 19% / vol, and dangerous for human when it goes below 16% / vol. Hence it is essential to control the oxygen concentration with an oxygen detector to keep workers safe.
| | |
| --- | --- |
| Oxygen level | Impact |
| 23.5% vol | Maximum Safe Level |
| 21% vol | Oxygen Concentration of normal atmosphere (20.954%). |
| 19.5% vol | Minimum Safe Level |
| 15-19% vol | trouble in working, problems in circulatory heart and lung |
| 12-15% vol | Difficulty in breathing, emotional upsets |
| 10-12% vol | Breathing and pulse rate increases, muscular co-ordination is impaired |
| 8-10% vol | Nausea and vomiting, inability to move freely and loss of consciousness may occur. |
| 6-8% vol | Death in 8 minutes |
| <6% vol | Convulsive movements and gasping respiration occur; respiration stops and a few minutes later heart action ceases in less than a minute. |
The oxygen gas detector must be used to prevent anoxia risk for workers. Oxygen depletion can happen in many work environments such as laboratories, hospitals, and food productions etc.. For example using inert gases (nitrogen, helium, argon, or carbon dioxide) in universities, laboratories, research centers displace oxygen and reduce the oxygen concentration. Also working in confined spaces ( crawlspaces, sewers, tanks, underground, etc...) can also be dangerous as oxygen concentration may drop for various reasons as listed below:
Combustion consumes oxygen, for example, combustion engine underground may consume the oxygen and leave carbon monoxide behind.

Corrosion reduces the oxygen concentration, for example in tunnels, sewers, and other underground facilities explosive and toxic gases may have been formed as a result of biological reactions.

Oxygen consumption due to breathing in dense areas.
Different industries use many different gases lighter or heavier than air that may lead to accumulation in different cavities when leaked. It is important to know which gas could displace the oxygen to monitor oxygen concentration. The Oxygen detector must be placed where the gas could accumulate for correct detection. It is important to remember that the carbon dioxide is also toxic in addition to displacing the oxygen. Hence in some cases, other toxic detectors must be used together with oxygen detectors.
High concentration of oxygen is also dangerous. The risk of fire increases when the oxygen concentration in the air increases. All combustible gases or materials will be more flammable than their normal flammability in high oxygen concentration. Inhalation of high oxygen concentrations over time can be harmful for all creatures.
Prosense provides accurate oxygen (O2) level measurements with different models to prevent injury or death in situations where safe levels may be compromised. Prosense Oxygen Gas Detector provides sensitive measurement and provides both low and high alarms when the oxygen level drops below 19.5% volume and increases high 23% volume. Alarm levels can be adjusted according to process needs.
Prosense PQ series fixed Oxygen detector features includes:
ATEX, IECEx and SIL2 certifications

4-20mA analog output

Modbus RS485 digital output

Adjustable alarm levels

Optional integrated relays for alarm level monitoring

SS316 Oxygen sensor head with calibration certificate

Integrated display (Optional)
Prosense P series fixed Oxygen detector features includes:
ATEX and IECEx certifications

4-20mA analog output

Modbus RS485 digital output

Adjustable alarm levels

Optional integrated relays for alarm level monitoring

SS316 Oxygen sensor head with calibration certificate
Prosense PC3 series fixed Oxygen detector features includes:
Category-3 device

4-20mA analog output

Modbus RS485 digital output

Adjustable alarm levels

Optional integrated relays for alarm level monitoring

Nickel-plated brass Oxygen sensor head with calibration certificate
Prosense BTN series fixed Oxygen detector features includes:
Integrated relays for alarm level monitoring

Optional RS485 digital output

Adjustable alarm levels

ABS Oxygen sensor head with calibration certificate